Circular Wave is a configurable platform which serves as the digital interface between health organisations and their workforce. We work with our partners to pioneering the latest technologies and deliver technical solutions which enable transformational change for health organisations.
From compliance and onboarding to rostering and communications, we support the digitalisation of processes to enable fast, transparent and securing information transfer that evolves and adapts to each organisaion's needs. Everything is supported by wraparound management information giving insight and control into every aspect of the workforce.
Circular Wave is built by a passionate team of experts who combine a wealth of experience in software with a vast knowledge of the complex needs of our NHS customers. We are about providing tools, not transactions. We work in true partnership and moulding our product to meet the real world needs of our clients and supporting all the way.
Great technology
We've developed a market leading platform which serves as the digital interface between your organsiation and their workforce. Our product is highly configurable and evolves as organisations transform and improve. We pride ourselves on usability and retention and apply latest product development methodologies to build products that maximise value and users love.
Shift management
Our best-in-class shift management has been refined from real world user feedback.
Create hundreds of shifts in a few clicks and integrate into legacy systems to get a complete oversight of your roster and shifts. Open access to all with a user friendly interface suitable for ward managers to workforce coordinators.
Need agency cover? No need to go to another system, you can release on a tiered, timed schedule or on demand based on the rules you defne.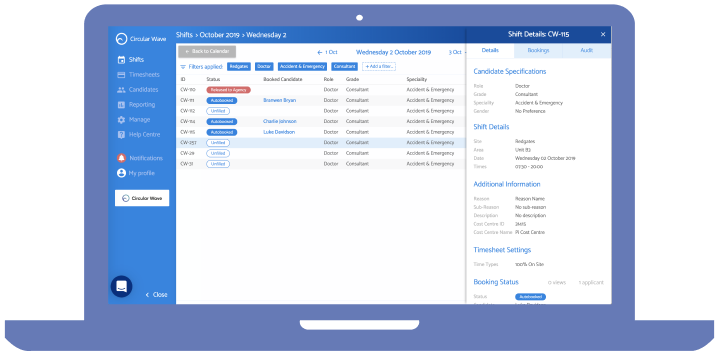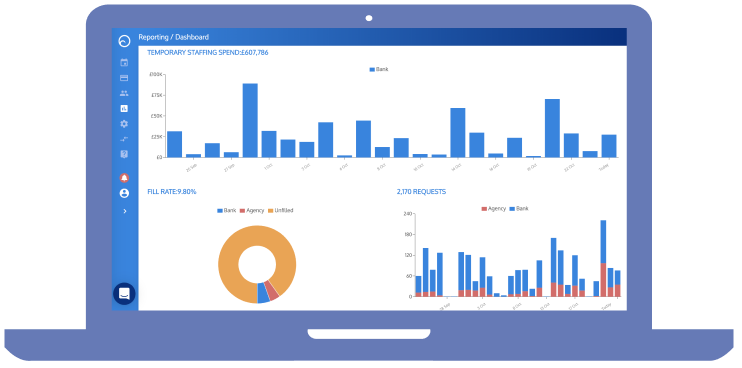 We specialise in data engineering and analytics. Whether you're using our responsive dashboards, standard or bespoke reports you'll have a new and complete view of your workforce data.
Your data is yours. We never restrict access to your data or charge you for it. We give you unrestricted access to your databases and all information stored via our open APIs. Giving full access to in-house analysts or alternative reporting systems.
Clinical staff love having a single point of contact without being hassled. Our notifcations are tailored to maximise engagement without causing annoyance, and they can maintain their compliance passport right in the app (DBS, professional registration, qualifications and more).
Real-time schedules, availability and timesheets are all updated via a bespoke clinical staff mobile app. We include a suite of customisable features such as rewards schemes and through our in-app engagement engine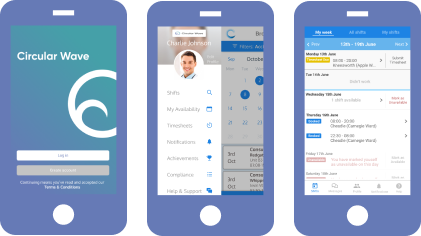 Staff onboarding and compliance
Our compliance and sign-up workflow ranges from organisation to organisation and professional to professional. We offer the full "digital passport" including the most stringent compliance checking with identification validation, document validation, DBS checking and professional qualification checking in a highly customisable workflow which matches the level of compliance and information governance set by each organisation.
Clinical and adminstrative messaging
Our in-app chat enables secure one-to-one messaging between collegues, broadcast messages for news and events and group messagaing for teams. In-app chat moves adminstrators and clinical staff away from Whatapp and other unregulated messaging services with vetted and approved users controlled by you for sensitve and non-sensitve information sharing.
Directory service
Host and manage a regulated phone and beeper directory for your staff to give them a single place to connect everyone in your organisation. Staff no longer need wait for switch boards to find numbers and you have complete control over the integrity and acessabily of your listings - fully GDPR compliant.
Vendor management
We enable oversight and control of agencies and third parties with sophisticated workflows to regulate request, release and management of shifts to third-parties. Agencies can integrate fully into the platform to submit candidates with CVs and registration details via bespoke portal or open API integration. We support automatic and tiered vending so shifts can be released to agencies as and when you chose or configure rules-based releases (ie. auto release 24 hours before the shift if unfilled).
All access reporting
We specilise in data engineering and analytics which enable us to give you a complete and insightful view of your data. We have in-app dashboards and exportable reports for realtime managment and we build bespoke regular reports as you require to follow NHSi guidance. If thats good enough, we give you full and unrestricted access to your database to develop your own reports - it's your data after all.
Process and workflow optimisation
We know that technical solutions cannot invoke transformational change alone. We work very closely with our partners to understand and map processes, to identify pain points and opportunities and then take a holistic approach improve and design new processes. Our team consists of clinical staff, managers and business analysts who leverage extensive experience to bring new tools and innovative ideas to your management committees and teams.
Embedding into existing eco-system with open integrations
Building staff banks
Enabling cross organisation collaboration
Digital passports
Instant timesheets and payments
Continued support and on-site training
We specialise in designing and building solutions which are intuitive and usable. Our technology is tailored to its users from health care to senior management. We apply latest the user interface (UI) and user experience (UX) research to deliver solutions your workforce will love. We support the onboarding and training of new users and the adaption of new and improved processes with techical and non-technical solutions.
On-site awareness and user training
Proactive analytics and smart reminders
Immediate customer support
Top down subscription pricing which adjusts with users and features
Our pricing model is transparent and fair. There's a set-up fee, a single low annual system cost, and a subscription fee per user (whether administrator or candidate). We're typically significantly cheaper than our competitors. We're not an agency in disguise: for example, you'll never pay us commission each time a shift is filled or application completed.
Dedicated development teams
Pay per use and users
Always mangaged and owned by you
For more information on any of the above or to arrange for an on-site demo, please contact [email protected]