By James Shields - 10th Feb 2020
Read time - 5 minutes
When Circular Wave engage with organisations we set ourselves ambitious targets which we regularly exceed (see part 1).
But we don't stop there.
Once our technology is configured, we've embedded into an organisation and engaged staff, then the exciting work really starts.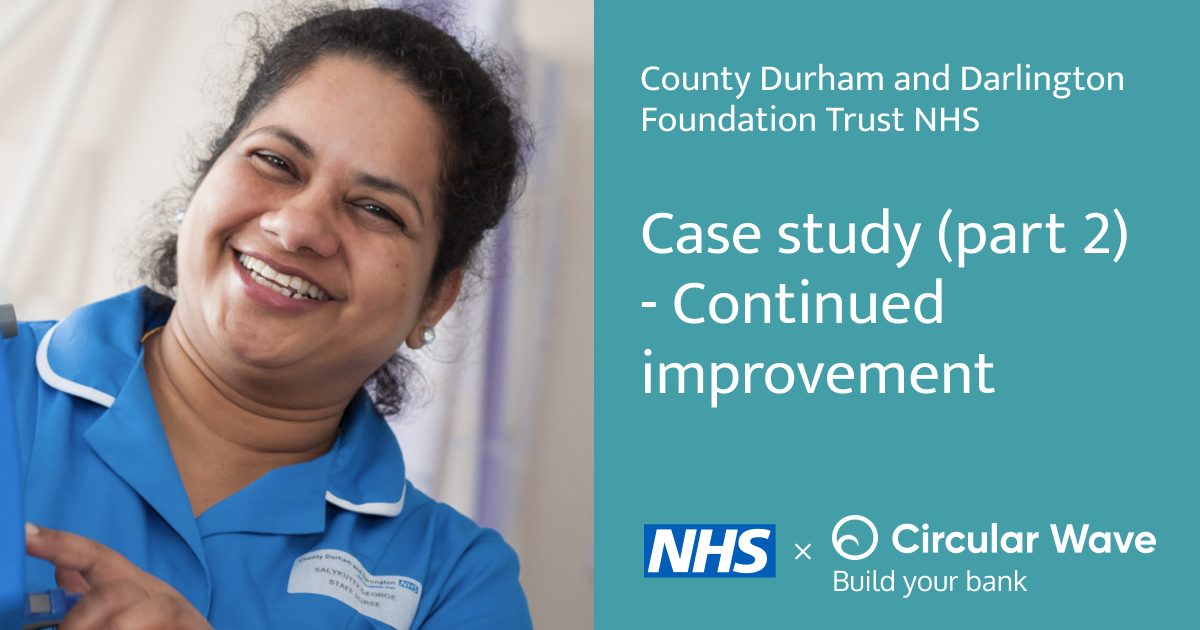 From here, we continue to develop our product based on usage, feedback and the new landscape. We tailor our solution to the organisation's specific needs and we address unknown or new opportunities from the transformation change that we have enabled.
This is an iterative process whereby each improvement we make, enhances their systems and creates new opportunities. This enables us to further improve our solution and so on. This process ensures product improvement and that our client's, like CDDFT, Return on Investment constantly increases.
So let's review our work in the past 12 months at CDDFT and see how our partnership has enabled continued improvement in their processes.
Third-party integrations
CDDFT chose Circular Wave because they had complex workforce management needs which no 'off-the-shelf' supplier could provide.
Like many Trust, they have a network of organisations which supply their workforce. Firstly, they manage their own internal staff bank of 650 doctors from ST1-2 to Consultants. Secondly, junior doctors are supplied by a regional staff bank, namely the LET. Finaly, agency staff support the full range of doctors adn are supplied by a third-party agency.
Give the nuisance of each relationship their own staff and both external suppliers, they needed a range of integrations to best streamline and automate their workforce management process thus requiring a multifacted solution.
For agencies, we built a bespoke portal which enabled them to manage and submit candidates. The portals host the full cycle of agency negotiation to happen in a centralised location with regular candidates information (CV, GMCs, references) all stored to reduce duplication of checks for every shift. Every event is recorded in an audit trail and notifications configured to ensure the process is transparent and fair.
From CDDFT's view, reducing duplication of administration and having an easy portal to encourage agencies to submit candidates was great but most important was the presentation of agency staff applications to shifts in context with their own and the LET bank candidates. This enabled workforce administrators and ward managers alike, to book in an agency staff member but until the last minute book in one of their own staff members thus further supporting the objective of reducing agency usage.
Due to the different relationship, the LET agency required a different kind of integration. LET staff are considered the same as CDDFT's own internal bank staff and for shifts available to junior doctors are actually favoured as candidates in some circumstances preferable. This integration needed to be automatic and in real-time as so we built the autovend feature.This enabled any shift eligible for a junior doctor would be automatically vended to the LET bank to be released to their staff bank simultaneously as CDDFT's staff bank. This process is automated so requires no action for CDDFT and gives LET candidates the same access to shifts as CDDFTs own internal bank.
Weekly digest
Our software is provided on a subscription model so that CDDFT only pay for the number of active users on the system. We do this as we believe it delivers true value for our clients and demonstrates we are equally committed to driving engagement with the platform.
Everything we build is designed to be as intuitive as possible and to maximise engagement as we know that's the way we guarantee use and the Trust's value. Specifically designed at increasing engagement in the Trust's own staff bank, we built a weekly digest email which on a weekly basis (Friday at 8pm) we notifying clinicians to events and actions on the app such as advertising available shifts or reminding staff to complete their compliance.
For available shifts, we are using a recommendation algorithm which features a list of shifts in the following week which have not yet been filled and that the candidate is eligible to apply for. In doing so we are encouraging staff to set their available, to apply for shifts and giving candidates a "cross-platform call to action" - a clickable link from their inbox to the app. We monitored the impact and found a significant increase in applications to shifts and logins to the app which was great (as more logins = more applicants = more shifts filled).
Timesheets approval groups
Another feature we adapted for CDDFTs was their timesheet approval process which was required because of a substantial business change in their internal process. They wanted to introduce enhanced information governance on timesheets, restricting which administrators could approve which timesheet based on care groups.
This was a substantial change from how the process originally worked and so required a substantial change to the timesheet workforce on our platform. Fortunately and because everything we build is configurable, such a substantial process change could be delivered efficiently (and quickly) by reconfiguring the components of the original process and build only a few new components. So as opposed to complete rebuild and we were able to move very fast and delivered this in 4 weeks.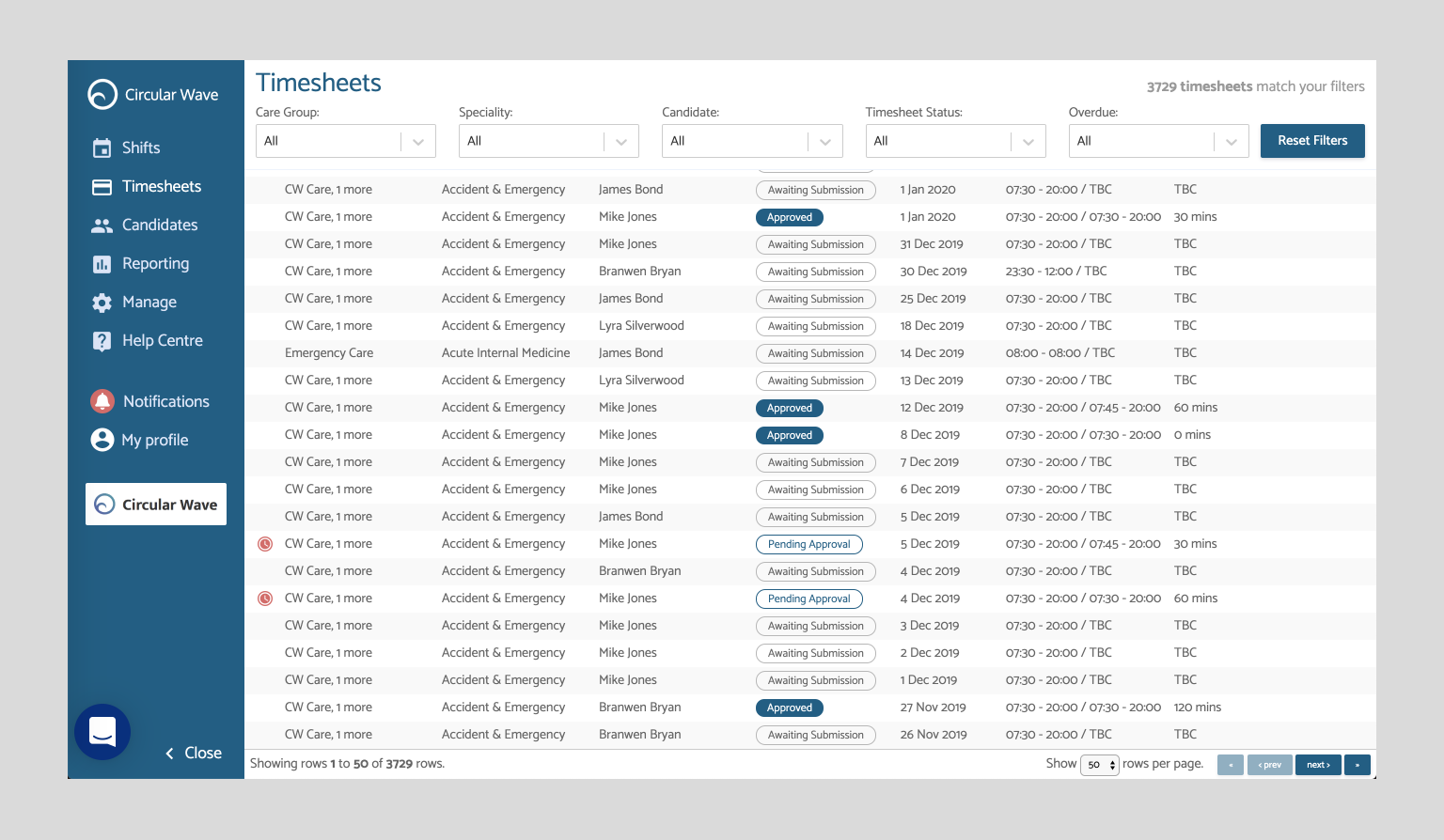 We took the opportunity to improve the UI and UX of the timesheets (as shown above) - and created quick links to enable administrators to approve or reject a timesheet with a single click.
In addition to this we have deployed major upgrades to shift management, timesheet approval process, in-app reporting, regular reporting, automated compliance, bank onboarding and management.
It's been a great 12 month partnership with CDDFT. We already have a jam-packed roadmap for what we're doing for them next and we're really looking forward to our (and their) continued development in the next 12 months.
For all enquiries or to request a demo contact [email protected] or give us a call on 0333 987 4045.
James Shields
CEO - Circular Wave